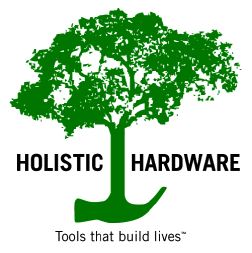 WHAT THEY'RE SAYING ABOUT
HOLISTIC HARDWARE: TOOLS THAT BUILD LIVES
Vikki Arneault, Founder/Director, NewStart WorkNet Career Center, St. Johns County, FL
I just wanted you to know how this great tool is changing lives in NE Florida.
As a corrections deputy and a child of the King, it really bothered me that I kept seeing some of the same people return to our facility in St Johns County. I would try to encourage better thinking, share biblical wisdom and do some mentoring to inmates that were county sentenced in hopes they would break the cycle. Occasionally, it bore fruit, but more often than not, I'd see them again. Some are in my current group.
In October of 2006, I was introduced to Holistic Hardware on VHS. It was powerful! I knew the curriculum could make a difference. I pushed forward with trying to get some classes going but the problem was, I was an officer so I could not lead them. I even offered to step down to a civilian job, but the brass wouldn't hear of it. I kept praying for something to happen so we could show how God's Word works to change lives, even from inside our detention center doors. And God answered. March of 2007 He sent a couple with 20 years of prison ministry experience to begin the program in the jail. We partnered inside the jail and out, with me supplying the materials, and we got the Holistic Hardware DVD's as soon as they were released. I couldn't be in the classroom with the inmates, but the inmates did discuss the lessons with me afterwards.
In 2009 I established a full time career center and continue to use Holistic Hardware for every student, regardless of their background. I took over doing the Holistic Hardware in the jail 2 nights a week, one for women, the other for men who were on work release. This is where I found fertile soul and the inmates were in for longer periods so they could get through it. Not only do I use the Holistic Hardware, I back it each week with a movie that reinforces the Tool that we are working on.
Your Holistic Hardware has touched over 200 persons through NewStart. And even tonight, as 2 more men saw themselves as victors for the first time, and one finally now has a new relationship with the Savior through participating for the last 11 weeks, they both asked if they can continue until they are released. One will leave in 3 weeks, the other in about 3 months. He'll be able to complete it again! They learned much, but know by doing it again, they will retain even more.
I encourage as many ministries as I can to invest in Holistic Hardware and use it to help those who are in recovery, struggling with employment or if they have homeless persons as part of their church.
---
Nancy DeSandre, Waukesha, WI
I want to tell you that we are very pleased with the Holistic Hardware course that we are using for the homeless, and chronically unemployed here.
I wanted to let you know that we have added another dimension to the program by having the class work on a volunteer project for a small stipend for each day of class.  We run our classes 2 days a week for 5 weeks and they work 2 hours each day at a community project giving back to the community.  We also keep the class size to 6 so they begin to open up to each other and really encourage each other outside the class.
On the day of graduation, we invite the businesses/organizations that we partnered with during the class to participate in the ceremony of thanking the class.  Each of the graduates tells which tool was most helpful to them.  Our last 2 graduations we even had the mayor come to give the welcome address.  We give them their diploma but also a work reference for their job search since they actually worked during the class.
We are now on our 4th Holistic Hardware class in the past 1 year and really enjoy it.  We have had 13 graduates and only 3 are not working.  One woman was hired by one of the organizations we volunteered for.
---
Gloria Nunn, Missions Assistant, First Baptist Church, Moore, OK
Just a note to tell you that I am using this program in the Mabel Bassett Correctional Facility and have used it the past three years.  It is awesome, this is the second set we have ordered.  Thanks for your hard work in making this program possible.
---
Donald T. Williams, missionary, River City Church, North Little Rock, AR
I have been using your material Holistic Hardware for two years and I'm very impressed with it.
---
Love Express, New York, NY
Throughout the tapes, Holland presents a practical, no-nonsense approach to daily living …In this new war against poverty, one can hardly imagine a better or more practical weapon than Holistic Hardware.
---
Larry Wynn, TML Ministries, Miami, FL
I'm very pleased with Holistic Hardware. One of our homeless men was so inspired that he went out and found a job as a chauffeur right after he finished the course. I'm telling all our ministry partners to use Holistic Hardware.
---
James Crawford, Community Faith Partners, Ithaca, NY
Above all else, the Holistic Hardware curriculum is immediately appreciated by all who've seen it (or even heard of it). It is appreciated for its simple practicality, for its comfortable translation of timeless success principles rooted in the Christian faith, and its utility as an empowering communication device (a language) detailing the issues of poverty—economic, social, spiritual—for all of us who want to become better neighbors in the full community.
---
Rev. Roger Minassian, Hope Now For Youth, Fresno, CA         
Holistic Hardware is great stuff for the former gang members we're trying to reach.
---
Anthony Pratt, Bushwick Information Center, Brooklyn, NY
I've organized six churches to partner in implementing the holistic tools.
---
Pat Jones, Community Christian Concern, New Orleans, LA
Our groups love Holistic Hardware!
---
Joanna Byler, Jackson, MS
We've been using Holistic Hardware in our Wednesday night Bible studies at church. Some residents from a nearby shelter were invited and they've been blessed, too.
---
Riney White, Deliverance Ministries, Ithaca, NY
My wife and I have been taking the holistic tools into the local jails. The inmates' lives have really been touched. We're already seeing positive changes.
---
Patrick McNair, Here's Life Inner City, New York, NY
My vision for Holistic Hardware is to see churches all around the tri-state area offer this valuable life skills curriculum as an outreach to their communities. I believe these tools play a vital role in helping a person build, what I call, "a personal house of progress", which leads to productive living and maintaining meaningful employment.
---
Washington Watch, Washington, D.C.     
Holistic Hardware has proven an effective tool for the faith community in addressing the challenges of welfare replacement.
---
Daryl Jones, Hoffman Family Shelter, Bronx, NY
The holistic tools have helped me as much as they helped the people in my groups.
---
Jenny Forner, New Focus, Allendale, MI
The materials are excellent! We're structuring Holistic Hardware into the package of resources we offer our member churches.
---
Jim Phillips, Love Truth Care Ministries, Little Rock, AR
We've found a fit for Holistic Hardware as part of our food assistance program. When they come to our program for food, we show them the tapes.
---
Carmela Carter, St. Vincent's Unity,Development Center Indianapolis, IN
We started our Holistic Hardware group and our clients are so excited that they can't wait to come back the following week.
---
Wanda Sowell, Circle Urban Ministries, Chicago, IL
The holistic tools worked so well for us in our community care program that we're expanding Holistic Hardware to our adult literacy classes.
---
Rev. Steve Fix, Compass Ministries, Omaha, NE
I like the holistic curriculum so much that I passed it on to a sister ministry in Arkansas.
---
Jason Pittman, Mission Waco, Waco, TX
The materials are so dynamic that we've included them in our ongoing training programs.
---
Bishop Emmanuel Jones, Voice of Pentecost Ministries, Monrovia, Liberia
The holistic tools are having big impact here in Liberia and I intend to take the holistic tools all over Africa.